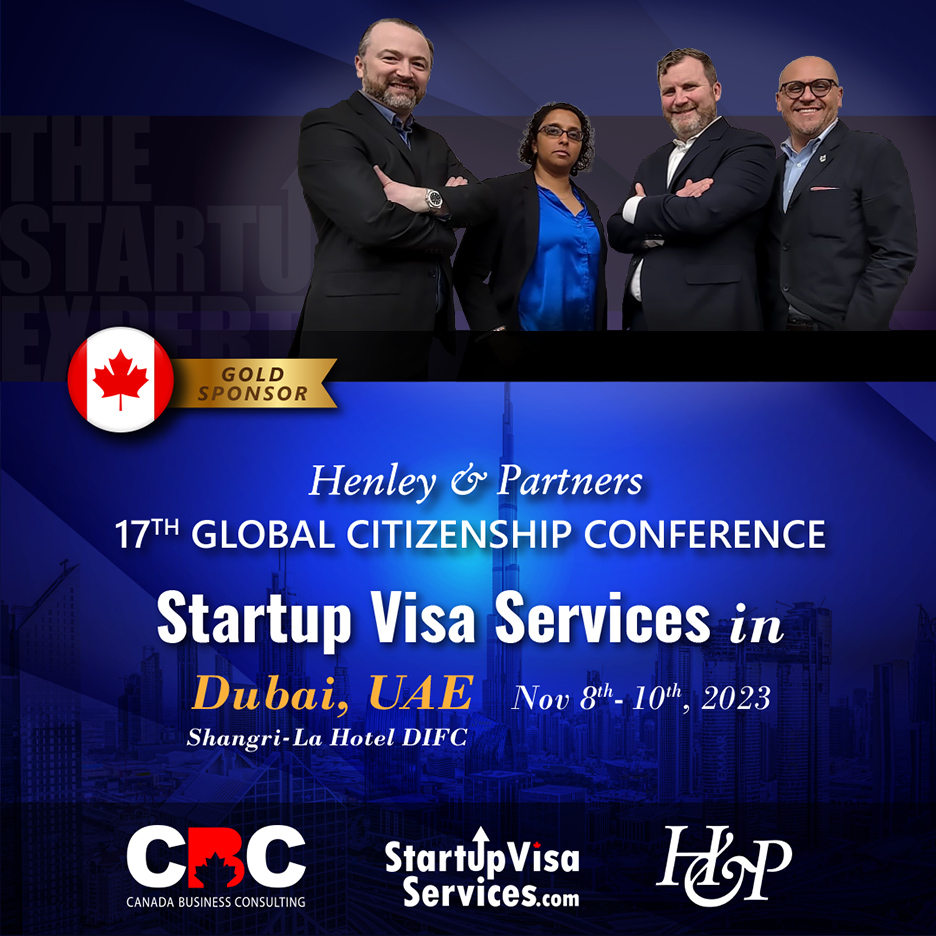 Dubai in November schedule! Book with our team in advance.
The Startup Visa Services team is back in Dubai at the Henley & Partners 17th Global Citizenship Conference. We are arriving a few days earlier and staying a few days after the conference to meet with immigration professionals. For those that would like to attend the conference, as a GOLD event sponsor, we have 15 event discount codes, so request a discount soon from our team.
Date: 8 – 10 November 2023
Location: Shangri-La Hotel DIFC, Dubai, UAE
https://www.henleyglobal.com/events/17th-global-citizenship-conference
#immigration #startup #legal #StartupVisa #StartupVisaCanada #SvsTeam #Toronto #Canada #DesignatedOrganisation #CanadaImmigration #BusinessImmigration #SVSSUV #VentureCapital #entrepreneurs #StartupExperts #AngelInvesors #dubai
Ry Guy, Muniza Ayube, Slava Apel, Startup Visa Services
We cordially invite you to join us at the 17th Global Citizenship Conference, an event that promises an enriching experience filled with profound discussions, enlightening presentations, and engaging workshops. This conference is set to feature esteemed thought leaders, influential government decision-makers, including prime ministers and senior government ministers, distinguished academics, and experts in investment migration hailing from various corners of the world.
By participating in the 17th Global Citizenship Conference, you will have the opportunity to glean valuable insights and knowledge on a range of topics related to global residence and citizenship options. As a global leader in this field, we are committed to bringing you the most up-to-date information and trends. The conference will delve into several key themes, including:
The Present and Future of Global Citizenship: Explore the current landscape and the future prospects of global citizenship. Gain a deeper understanding of the evolving dynamics in this field.
The Global Economic and Political Landscape: Delve into the intricacies of the global economic and political stage. Learn about the regions and countries that offer promising opportunities and those that pose challenges in the future.
Wealth Planning for Global Citizens: Discover effective strategies for managing wealth as a global citizen. Explore financial planning, investment, and tax implications in a global context.
International Perspectives on Well-being, Family Life, and Longevity: Gain insights into the various facets of well-being, family life, and longevity from an international perspective. Understand how different countries address these critical aspects of life.
The Best Real Estate-Linked Residence and Citizenship Options on Every Continent: Explore the world of real estate-linked residence and citizenship options. Learn about the most promising opportunities on every continent and how they can benefit you.
Trends in Due Diligence and Regulatory Frameworks: Stay updated on the latest trends in due diligence and regulatory frameworks for global citizenship. Understand the evolving compliance requirements and best practices in the industry.
The 17th Global Citizenship Conference promises to be an exceptional gathering of minds, fostering valuable connections, and equipping you with the knowledge to navigate the complex landscape of global citizenship.
Start Up Visa Services
Would you like to learn more about Startup Visa Program
and how SVS can help?
Get In Touch
Subscribe To Our Newsletter
BE NOTIFIED ABOUT STARTUP VISA
NEWS AND DEADLINES