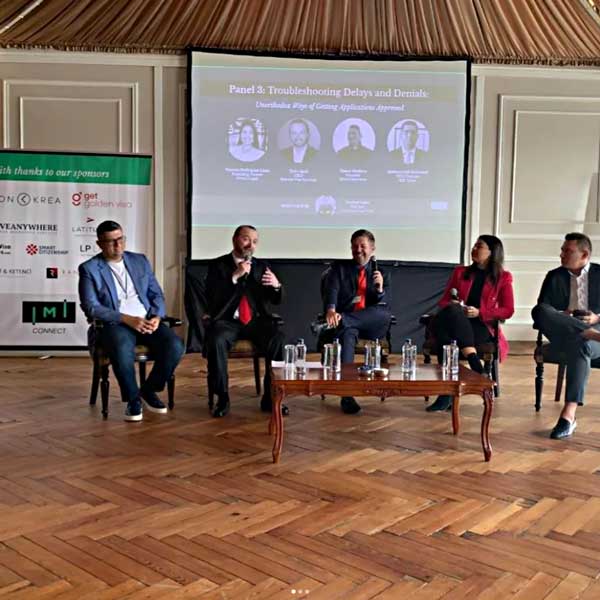 Our team from Startup Visa Services travelled to Istanbul, Turkey, to participate in and sponsor the renowned Investment Migration Insider – IMIConnect exhibition event at the outset of November 2022.
At this prestigious gathering, Slava Apel, the CEO of SVS, received an honor of representing Canadian Startup Visa on an international panel composed of immigration experts. Slava Apel's participation in this global panel emphasized his expertise and the esteem of the Startup Visa Services in the realm of immigration and entrepreneurship.
Our team seized this golden opportunity to establish and strengthen connections with our channel partners and reputable immigration firms and consultants. This event created an environment of mutual growth and knowledge exchange within the expansive landscape of immigration and startup initiatives.
Furthermore, this event facilitated fruitful discussions and the sharing of valuable insights into the evolution of immigration programs and the potential they hold for aspiring entrepreneurs. The gathering served as a platform to showcase our dedication to providing comprehensive support and guidance to entrepreneurs aspiring to make their mark in the Canadian business landscape through the Startup Visa program. It underscored our commitment to fostering a global network that promotes innovation, collaboration, and success for entrepreneurs seeking new opportunities on Canadian soil.
Start Up Visa Services
Would you like to learn more about Startup Visa Program
and how SVS can help?
Get In Touch
Subscribe To Our Newsletter
BE NOTIFIED ABOUT STARTUP VISA
NEWS AND DEADLINES