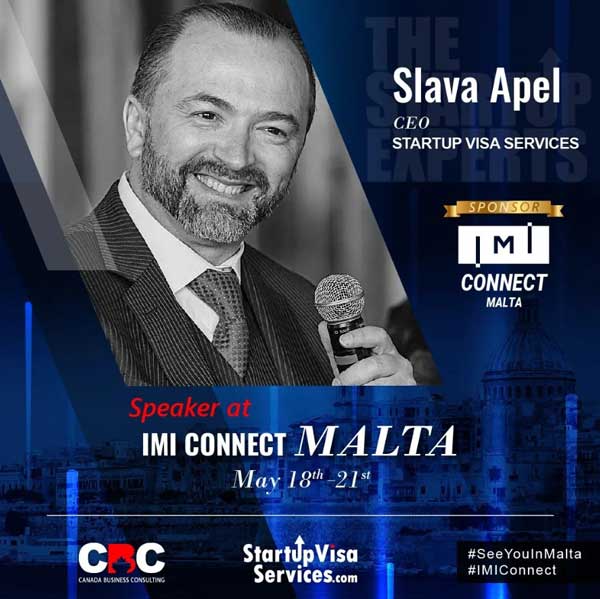 The Startup Visa Services team travelled to Malta to partake in an exclusive event organized by Investment Migration Insider – IMIConnect. This reputable conference gathered industry leaders and prominent service providers, creating a dynamic platform for insightful discussions and collaborations.
Proudly returning as sponsors for the IMIConnect event, a tradition upheld from previous gatherings in Istanbul and Lisbon, Mr. Slava Apel, the CEO of SVS, made a significant mark by taking the stage as a speaker, passionately addressing the audience on the topic of Active Investor Visas. He emphasized why Canada differs as the premier destination for aspiring entrepreneurs, showcasing the strategic pathway paved by the Canadian Startup Visa program.
Moreover, Slava Apel, representing Startup Visa Services, assumed the role of a moderator in the engaging panel discussion titled "The future is now… Hottest trends" in investment migration. This discussion was a glimpse into the rapidly evolving trends in investment migration, featuring representation from prominent countries like Canada, Montenegro, Spain, Greece, Malta, and the UK. Slava's expertise and guidance enriched the discourse, contributing to a deeper understanding of the unfolding landscape in investment migration.
This experience in Malta not only reinforced our dedication to supporting entrepreneurs through the Startup Visa program but also strengthened our collaborative ties within the global investment migration community. It provided a valuable platform to share knowledge, exchange ideas, and highlight the immense potential that Canada holds for aspiring entrepreneurs seeking new horizons.
Start Up Visa Services
Would you like to learn more about Startup Visa Program
and how SVS can help?
Get In Touch
Subscribe To Our Newsletter
BE NOTIFIED ABOUT STARTUP VISA
NEWS AND DEADLINES